I honestly believe that soft chamber can also help in many ways but I think it's not the best for a period of time right after his injury but on the other hand 100% oxygen has more potential right after an injury from my point of view.
I'll be honest; I do understand that parents can't always go to clinics every year, or twice a year for 2 months…. ( in order to do 40 dives).
Just to give you an exemple:
We did four months in Israel's Hbot back in 2016 ( which was the best thing that could happened to Marc) so it was the period when oxygen 100% helped him mostly and it was more potential because more close to injury in time.
we also did one month in 2017 and then two months in 2018
So in total we did 110hours of hard chamber (1,5ata 100% oxygen) in 3 years.
Both of the two last times, we saw progress which was much less obvious than at his first time in 2016 and it's totally normal.
So now we are sold on soft chamber: it's obvious it still helps him but I really think that I would do it now at 1,3 ata without oxygen, not because it's my favorite protocol, but because it's safe for home use. In those circumstances it would give less results but everyone is able to do it at home which by the way makes it 50% more oxygen in his plasma that will help him.
So it's just obvious, we can not escape school every year for 2 months. So I believe that a soft chamber can be THE solution for long term treatment (we are talking years after the acute injury).
And by the way we have some good canadien group testimonials from parents (in french only) who mostly used soft chamber treatments only.
Here's our chamber installation :
Thanks
Jean-François Tremblay
contact:
www.oxysoins.com
info@oxysoins.com
It was an exeptional experience, very helpful for installation and for all of my questions and just perfectioning training.
(francais):
Nous commençons souple hbot pour Marc:
Honnêtement, j'ai la conviction que la chambre souple peut aussi aider de nombreuses manières, mais j'estime que ce n'est pas la meilleure solution pour une période qui suit immédiatement sa anoxie cérébrale , mais que 100% d'oxygène a au plus de potentiel après son arrêt cardiaque (c'est que de mon point de vue) …après 110h chambre dure 100% oxygene et 1,5 ata on passe à chambre souple à la maison 1,3 ata et sans oxygène et après 3 ans!
Je serai honnête; Je comprends que les parents ne peuvent pas toujours aller aux cliniques chaque année, une ou deux fois par an pendant 2 mois … (pour faire 40 plongées).
Juste pour vous donner un exemple:
On a fait pendant 3 ans En Israël, nous avons Hbot dure (1,5 ata 100% oxygène) –
pendant quatre mois en 2016 (ce qui a été la meilleure chose qui puisse arriver à Marc). C'est donc la période où l'oxygène à 100% l'a aidé le plus, ce qui lui donnait plus de potentiel, car il était plus proche de son anoxie cérébrale dans le temps.
nous avons également fait un mois en 2017 puis deux mois en 2018
Au total, nous avons donc effectué 110 heures de chambre dure (1,5% à 100% d'oxygène) en 3 ans.
Les deux dernières fois, nous avons constaté des progrès beaucoup moins évidents que lors de sa première fois en 2016 et c'est tout à fait normal.
Nous sommes maintenant commence le chambre souple : c'est évident que peut l'aider toujours, mais je pense vraiment que je le ferais maintenant à 1,3 ata sans oxygène, non pas parce que c'est mon protocole préféré, mais parce que c'est sans danger pour la maison. Dans ces circonstances, cela donnerait moins de résultats, mais tout le monde est capable de le faire à la maison, ce qui lui donne 50% d'oxygène supplémentaire dans son plasma, ce qui l'aidera.
C'est donc évident, nous ne pouvons pas échapper de l'école tous les ans pendant 2 mois. Je pense donc qu'une chambre souple peut être LA solution pour un traitement à long terme (nous parlons des années après anoxie cérébrale).
Et au fait, nous avons de bons témoignages de groupes canadiens de la part de parents qui utilisaient principalement des traitements de chambre souple : https://www.facebook.com/groups/169622703606007/?ref=share
Voici notre installation de chambre: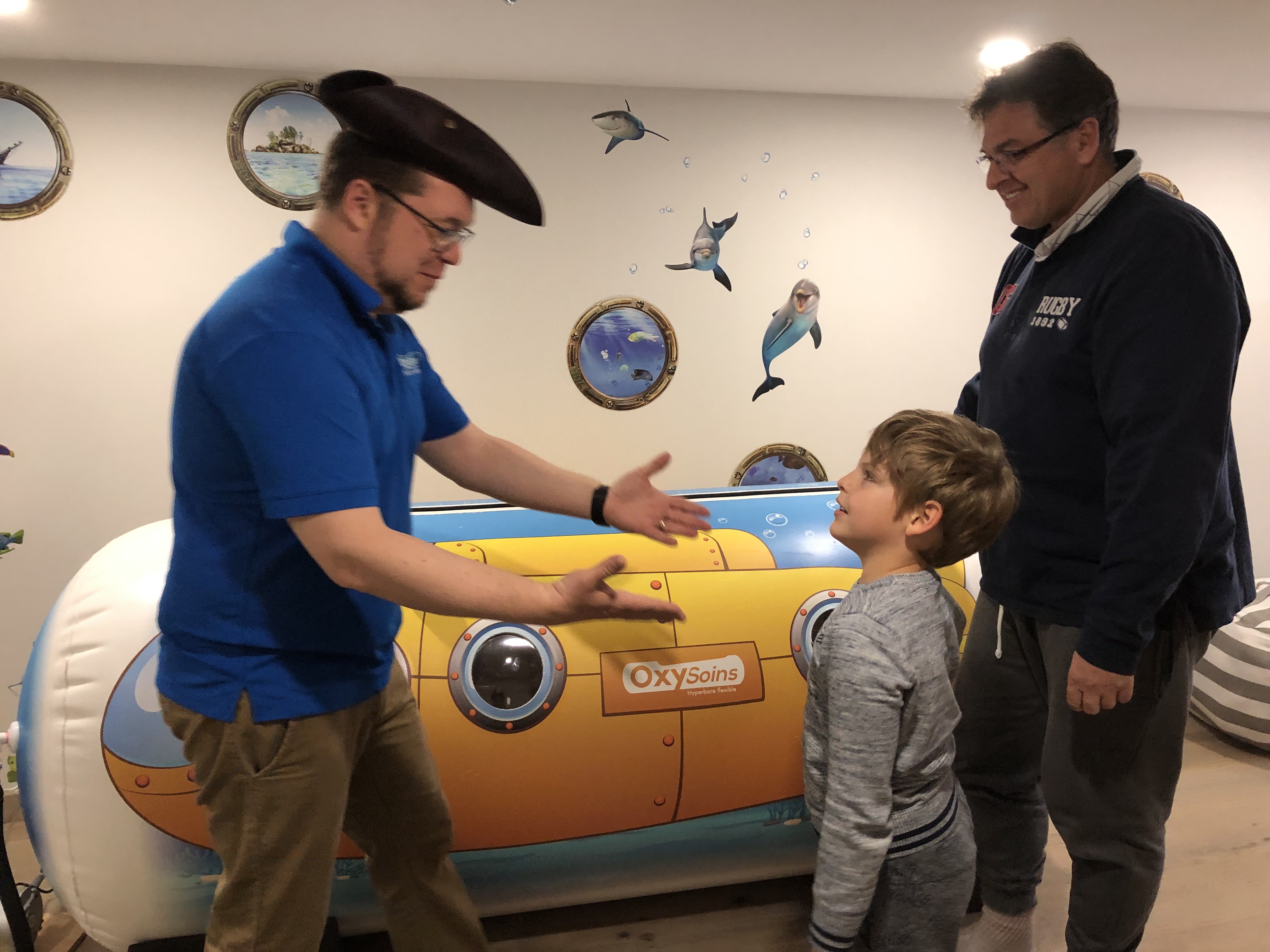 Merci
Jean-François Tremblay
Si vous voulez contact:
www.oxysoins.com
info@oxysoins.com
Tel france : 0186655685
Ce fut une expérience exceptionnelle, très utile pour l'installation et pour toutes mes questions et pour perfectionner ma formation.