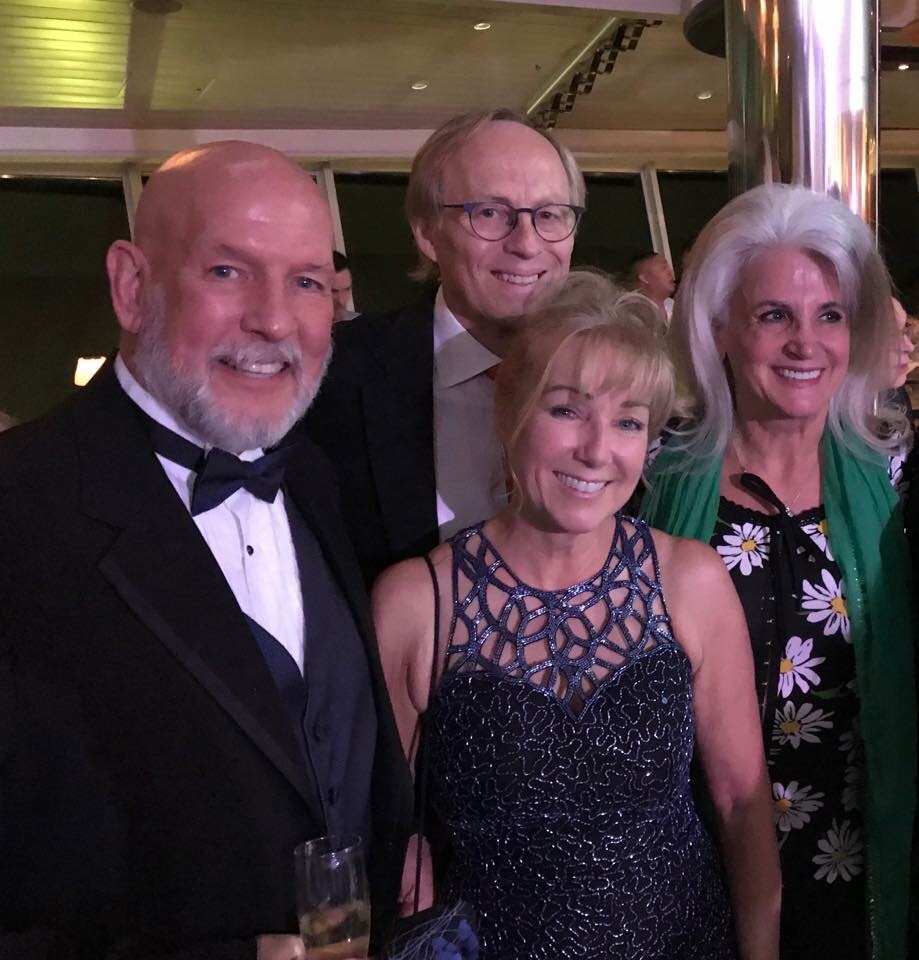 I just connected with Claudine Lanoix I really want to tell her Cp children's story ( she promised to make her testimonials later so I will post it as well soon)
But she gave me permission to share all I wish about her sons story because as she said I me « I can't tell you how happy I am that we have connected!! I give you my permission to share what ever I send you….It is my mission in this lifetime to have all children with anoxic or ischemic injury treated in HBOT as soon as possible after the event.  »
And just this article will tell you some part of her children's story: « On January 5, 2019 Claudine Lanoix was recognized by the International Hyperbaric Association for her role in establishing hyperbaric oxygen as a treatment option providing significant benefits to children with neurological injuries. Claudine accepted the Vanguard award from Dr. Paul Harch at the January meeting of the International Hyperbaric Association. In receiving this award Claudine recognized her journey and the journey of all parents of children with neurological injuries and special needs.
Claudine, a mother of five, whose youngest sons (twins) were born prematurely at 27 weeks, developed Cerebral Palsy. Their journey took them to England, where they received hyperbaric oxygen therapy. Their lives were forever changed. Matthieu stepped from his wheelchair, walking without assistance for the first time. His brother Michel following treatments attained trunk control and was sit up without assistance, opened his hands so that he could feed himself and he began to speak for the first time at the age of 4 years.
Organizing and working with parents groups in Quebec and with the help of Dr Pierre Marois, a McGill Pilot study of 25 children with Spastic Diplegic Cerebral Palsy was conducted. Significant benefits were noted with improvement in Gross Motor Function, Fine Motor Function, reduction in spasticity. Improvements were also noted in speech, sleep and over all cognitive function.
These same findings were duplicated once again in a Multi-centre trial with 111 children in 2001 and validated in a 10 year follow-up published in 2014. The life changes are durable.
Twenty years later, Mathieu attends college with an area of study in Computer Sciences. Working at Best Buy as part of the Geek Squad over the Christmas Holidays, he set up new computers and repaired those that malfunctioned. Michel attends school working as a teacher assistant teaching immigrants English. Both speak French and English. Their changes were permanent. Their lives changed forever by HBOT. »
Hire find her story on YouTube
In order to wait you till she can testimonials by herself 😉
Naw she has hyperbaric center in Canada:
Centre Hyperbare De L'Ile // Island Hyperbaric Centre
website: www.centrehyperbare.ca email: centrehyperbare@bellnet.ca
located at 117 Boul Cardinal Leger, in Pincourt, Quebec, Canada J7W 7A8 phone: 514-453-7978 // 1-866-677-7978
contact :Claudine Lanoix or Tiffany Nadeau – Thomas Fox
It is her mission : in this lifetime to have all children with anoxic or ischemic injury treated in HBOT as soon as possible after the event. 🙂
This one video her testimonials back in 2009:
And this one ( helping naw others children's)